Car Subscriptions and How They Work
You have decided against purchasing a car. Your only other option is to lease one. At least, this used to be the case. You now have a third option. You can join a car subscription service. Car subscription is one of the most popular and fastest growing phenomena in the country. Vendors that offer the service operate in numerous places in the U.S.
How It Works
When you subscribe to one of these services, you get to use the car for an all-inclusive monthly fee. The latter covers insurance, maintenance, and roadside assistance. There is also a key feature with some services, which allows you to change cars on short notice. Different events call for different types of vehicles. You may need to entertain clients during the week but take your family on an outdoor adventure on the weekend. You may need a luxury sedan for the one and a sports SUV for the other.
Who Offers Car Subscription Services?
Some of the most well-known automotive brands in the world offer this service. BMW has begun offering services in Nashville, Tennessee. Mercedes Benz is testing its subscription service in Nashville and Philadelphia. And Audi announced subscription service operations in the Dallas-Fort Worth area last summer.
The service is also offered by Ford, which operates in San Francisco and Los Angeles. Lincoln and Porsche are also on board, with the latter operating only in the Atlanta area. Cadillac re-launched its program in early 2019. Lexus, Jeep, and Volvo all run subscription car services in the North America.
ALM Drive is one of the latest and best companies that offer subscriptions at lower prices. Drive today on your terms for as little as $99 a week!!
To see how this works with us simply visit ALMDrive.com and we can get you in a car today.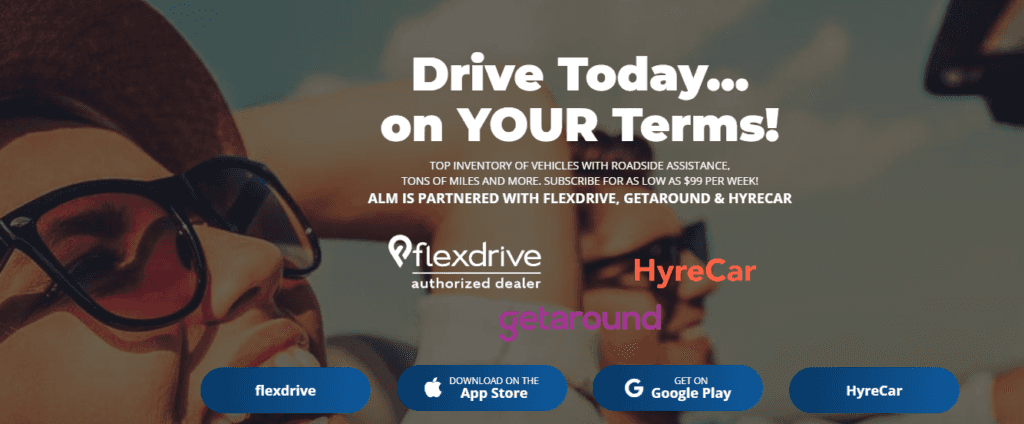 Why You Might Be Interested in the Service
1. Convenience
Most services allow you to set up your subscription online. You can manage your account with a smartphone app. The car you order will usually be delivered to you.
2. Flexibility
You don't have to stick to one car. You can switch cars as often as you need to. And you need not make any long-term commitments. Some subscription services can be as short as a month.
3. Cost effectiveness
No down payment is required. Nor will you face any finance charges.
4. Transparency
There are no hidden charges. The fees are set so you know exactly what needs to be paid.
5. No credit worries
If you have poor credit, you will find it easier to join a subscription program than to seek finance for a new car or be approved for a lease.